Welcome to Alam Pharmacy, A place that makes you feel better. Even if you're not sick in the first place.
Established in 2003 with a modest 25 m2 space, Alam Pharmacy expanded to become the first and only ISO certified pharmacy in Lebanon with a total footfall of 10 million visits to date and several branches spread across the MENA region.
Khaled Alam, PharmD, always believed that healthcare could offer an even more personalized experience and wanted to provide each visitor an exceptional level of care and attention. He trusts that a pharmacy should be "a place that makes you feel better, even if you're not sick at the first place."
At Alam Pharmacy, we do more than fulfilling prescriptions; we help our visitors achieving their health goals. The products we provide are offered together with clear guidance and professional advice. Our highly trained and knowledgeable pharmacists ensure that our visitors receive the highest level of quality service in a safe and friendly environment.
Taking care of your wellbeing for the past 16 years, Alam Pharmacy is your reliable pharmacy offering great-value health products, without ever compromising quality.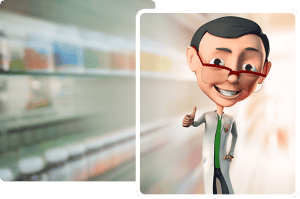 Our Mission
To transform the perception of a pharmacy from a place that sells medicine to a friendly environment where a team of highly trained personnel is ready to help customers stay healthy offering quality products they can trust.
Our Vision
To elevate our customers' quality of life and promote their wellness through excellent patient care in a worldwide accessible pharmacy providing exceptional service, great value and high-quality products.
WHY CHOOSE ALAM PHARMACY?
At Alam Pharmacy, we put our expertise in your hands. Dedicated to helping you live a healthier life, our team of qualified and certified pharmacists will make your visit a pleasant one every time you step into our pharmacy. We will serve your medical needs with exceptional attention and care, while providing you high quality medicines and redefined service standards.
We aim to earn your trust during each visit you make to Alam Pharmacy.
Customer-centric philosophy
Our caring pharmacists are happy to answer all your questions in person and guide you through the details of your prescription. You will see familiar faces and you will receive all the attention you deserve in a safe and friendly environment.
Expertise
Each one of our team members is a certified, trained and well-experienced pharmacist, ready to help you with any health related question and product recommendation. We look for contraindicated medications and call your physician with any question we might have.
Value
When it comes to you pharmaceutical needs, we define value as a combination of service, quality, and fair price. We provide an honest professional advice to help you with any health related question. We strive to ensure a reliable stock of high quality products while making it affordable for everyone.
Delivery
In line with our customer-centric approach, we offer timely delivery so that the products you need get delivered to you while you stay comfortable at home. We are one call away!